Warm Christmas Greetings to you all from San Cristobal de las Casas. We are thankful that arrived here in time to settle and experience the Christmas season in Mexico. I have noticed how many "holiday songs" apply to cold weather climates…we are not quite riding in a one horse open sleigh or making "Frosty the Snowman", but we are still enjoying the anticipation of the birth of the baby Jesus.  And so each night we light our candle and sing some Christmas songs together as a family. Hilary especially is enjoying learning the actions to Away in the Manager and I am singing quite meaningfully the last verse "Be near me Lord Jesus" and while the first time I sang Little Drummer Boy Ezra cried (I guess I sang it a little too melancholicly) it gives good reason to share about a spirit of giving what we have and from our heart. But we also throw in some Jingle Bells too as Ezra likes to dance around and be jolly, and this to is an healthly and happy part of celebrating Christmas.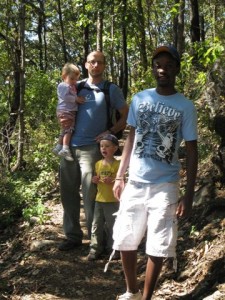 So it is the 23rd and already today we enjoyed a good walk up into the hills and mountains that surround this beautiful city with our fellow mcc worker Clifford, a young man from Zimbabwe who is 4 months through his 1 year term. While hiking in a t-shirt may not seem overly like a typical Christmasy thing to do, we thought we should take advantage of the 20 degree weather we were offered. (I should say small space heaters, warm drinks and blankets are very welcomed when the sun goes down and there is no central heat to turn up).
After being here for 3 weeks we have discovered plenty of places to buy a few Christmas presents. The number of places to buy things here is actually a little fascinating to Rick and I. The city has its own version of a Walmart – but in our community there are countless little stores that sell food, candy, clothes, toys, shoes, hardware and office supplies (you name it)  not to mention all the sidewalk vendors offering the same variety of items to purchase.  I haven't even mentioned yet that about 2 min. walkaway is a large semi-outdoor market where we buy most of our fruits, veggies, fresh ground hamburger, spices and if I wanted a live turkey. We are also privileged to be only about 7 min. walk from a very well known artisans market showcasing beautiful blankets, clothes and jewelry from the local Mayan people and other places in Latin America. The streets in these areas have been overfilled these past few days making it hard for the cars to get through the pedestrians – local people, tourists from Mexico and many foreigners as well (the latter much more so close to the town center and more
trendy area of town and less so in our own neighborhood).
But while the kids are quite excited to see Christmas presents under our nice little tree tomorrow – we are hopeful that through the songs we sing, the scripture we read and in our own actions as parents our children are also learning of the joy of the gift of Jesus.  This gift of a Savior and King. I rejoice that we are waiting again for his return someday and I am also  deeply thankful for the the work he has and continues to do in my own life – bringing a spirit of love, peace, humility, grace and generosity internally and hopefully at times through me to those of my family, friends and neighbors.
So while I admit the song "I'll be home for Christmas" rings a little bit differently in my ears and might even come close to bringing a few tears. There are a multitude of things that bring me joy and give me reason to celebrate! Merry Christmas!