Well with the arrival of December 1st we began the advent season. One special memory of this time was the day our family acted out the Christmas story complete with Shepherds, Angels, Mary, Joseph and the Wise-men. Magically at the right moment a ray of light shone in the window…
During these days we also joined in the festivities of the Dia de La Virgin de Guadelupe on December 12th.
This, our second Christmas in Mexico, we felt much more settled and enjoyed many good times with friends, giving small gifts to neighbors, had celebrations at church,  INESIN, a
"Posada
" at Pinguinos, and hosted a playgroup Christmas party -we are so thankful for the community God has provided for us here in San Cristobal. Pray with us as we continue to allow God to work in and through us to build relationships, serve in the name of Christ, and walk "into the way of peace" (Luke 2:79).
And then another set of festivities began with the arrival of the Gingras family from Vernon, BC – Robere, Michele, Luke, Caitlin and Oliver (who celebrated his 3rd Bday Mexican style).
It was great to be able to reunite with one of my sisters after more than a year…we visited, shopped, laughed and yes when she left we cried.
They rented a house close by in the barrio of El Cerrillo and we spent much of the 10 days together walking around San Cristobal, playing at the cancha (bball courts), trips to San Juan Chamula and Rancho Nuevo, but perhaps more importantly simply visited in our homes and enjoyed good mexican food!
We all celebrated a memorable Christmas Eve on the 23rd at our church where Jacquie sang in the choir.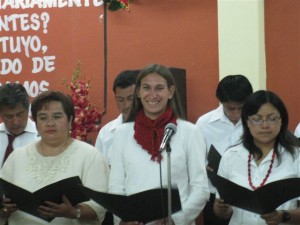 Noche de Paz, noche de amor, todo duerme en derredor; entre los astors que esparcen su luz bella, anunciando el ninito Jesus, brilla la estrella de paz, brilla la estrella de paz.
For the 24th we headed out to Rancho Nuevo and took in caves, horseback riding, the big slide, some good eats, and the ladies snuck in a bit more Christmas shopping.
Christmas Eve we took some time to sit around the tree to share the Christmas story, exchange gifts and in good Mexican style headed out to the street to set off some firecrackers.  While I didn't include a picture to prove it, we also worked hard Christmas day to put together a yummy Turkey dinner.
Earlier in the week we went on a tour of Pinguinos – a great experience for all but especially interesting for the big cousins and Robere (a teacher) to see a very different school setting.
For our last couple of days we headed to lower altitude and even hotter sun to enjoy two really relaxing days together in Tuxtla, including a trip to Zoomat, a zoo dedicated completely to flora and fauna of Chiapas.
Yes, it was a full and wonderful time together, great for siblings and cousins to have time to play and reconnect and for the Gingras to see life here in San Cristobal.