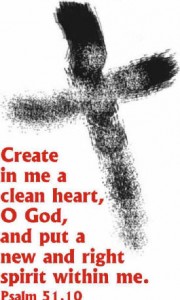 "Cuaresma" or in English "Lent" came quickly this year, perhaps because I am still learning to think ahead in these 40 some days before Easter.  Living in a Latin American, still predominately Catholic, country has seemed a good time to develop more firmly such traditions in my life and with my  family.
Admittedly I had failed to prepare for lent before it actually arrived and so those first few days following Ash Wednesday (Feb 23) I prayerful considered how to give credence to these liturgical days of the christian calendar.  While I do think the more common tradition of depriving oneself of something cherished during this time has its merits I had wanted instead to add something to my life that might allow God more space to speak to me anew. Perhaps this is due to the book I read last  Lenten season in which the author understands the idea of penance as a time to "to change one's heart."
My prayers as to how to utilize this season were clearly answered one night while I washed that day's dishes.  I had been enjoying listening to a Jon Buller (and other artists) CD labeled "A Hymn Project" on other occasions and returned to it once more .  While listening to a number of well know hymns including "I'd Rather Have Jesus" the simple answer given to me was – Jesus, add Jesus.  I give you two of its' verses and its' refrain written by Rhea F. Miller in the 1920's.
I'd rather have Jesus than silver or gold;
I'd rather be His than have riches untold;
I'd rather have Jesus than houses or lands;
I'd rather be led by His nail-pierced hand

Than to be the king of a vast domain
And be held in sin's dread sway;
I'd rather have Jesus than anything
This world affords today.

I'd rather have Jesus than men's applause;
I'd rather be faithful to His dear cause;
I'd rather have Jesus than worldwide fame;
I'd rather be true to His holy name.
While I do not negate that Jesus has been an increasing part of my life since I was a child I still desire to grab more a hold of Jesus, to know who he is and how he calls me to follow him, to learn how to live in and give more of his love, and to understand in heart and mind the greatness of his life, death and resurrection.  My hope is that during  these weeks that God will continue to change my heart and allow me to more fully say and live these powerful words, "I'd rather have Jesus than anything This world affords today."