The Easter Season marked for us our 2nd major holiday in Mexico. I think most people including ourselves have two thoughts around holiday times – what will we experience in this new culture, and how will it feel to be away from home? I think Rick and I had time to think of both of these questions, we definitely had moments of longing to be with family/friends from Canada, visiting, watching hockey playoffs, eating traditional foods, going to church services in English. I admit recently it is a bit difficult at times to see pictures of people enjoying times/place that seem quite Canadian to me. However as my sister has commented we are so fortunate to be living in a country that likes to celebrate. Semana Santa or Holy Week is a very festive season around here, not only in religious significance but also a time for much cultural activities. This also is continuing this current week as well in which there are countless cultural, artistic, sportive events to watch and a carnival we are eagerly awaiting to participate in this week.
This past Easter Week was quite full for us beginning with an East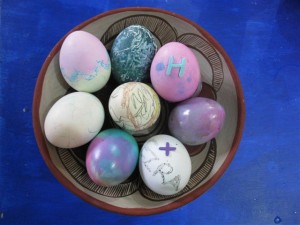 er Egg decorating party we hosted for some women/children from a playgroup I attend.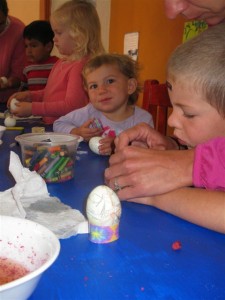 And while we were able to connect with a variety of people and groups over the few days we also had time to reflect personally on the incredible significance the Easter story has both in its historical occurrence and its potential implications for our own spiritual journeys. While Easter Sunday brings thoughts of joy and hope – I always love the biblical questions to Mary "Why are you looking for the living among the dead? – in particular this weekend both on Friday and Saturday I felt a deeper appreciation in contemplating the depth of Jesus suffering and the reality of his death. As one author states: "Because we know that Jesus will rise again, we may tend to skip over the fact of his death and the tragedy of it, spent Holy Saturday in a state of religious inertia, and then find that our inner state remains inert and unable to experience the joy of Easter."  This same author (yes the one of the previous post as well) also impressed on me the truth that while Jesus seems to have felt abandoned in this death, God's was still powerfully present  – as he can be in our lives in our moments of profound failure, sin, fear or despair. May I continue to learn to be sustained by his peace in these times.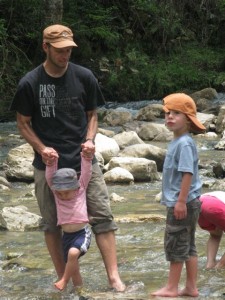 The first half of "Holy Saturday" was spent at a church picnic type event at a local park. We did drama, sang, listened, played, and ate together by a river. It was our first experience in a more social setting with this 4 year old relatively small Presbyterian church and a great opportunity to feel a little more connected.
The second half of my day was spent making Paska – a mennonite traditional easter bread – for the first time. I was a bit nervous having limited experience in bread making (I did kind of cheat and decided to make buns instead) and using more limited equipment including a propane oven that has no oven temperature settings (just level 1-5).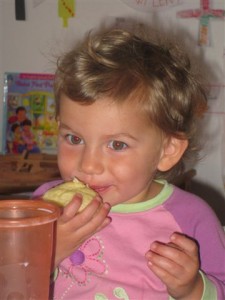 Thanks to my friend Alison who encouraged me to try "Lovella Paska" recipe from the website – "Mennonite Girls Can Cook" I was able to quite please and impress by husband, children and friends whom have never tasted Paska before.
Lastly we were fortunate enough to have two different outings on Easter Sunday. The first a small but meaningful "service" in the home of an US missionary family we are getting to know,  and the second a good time of fellowship with good friends visiting, eating, and watching the kids hunt for Easter eggs.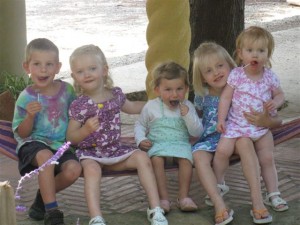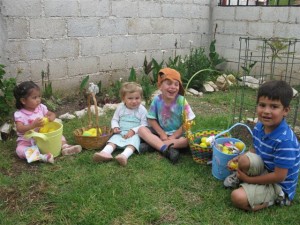 I'm always curious to know what children are learning and taking in from the various times we shared and talked to them about the life, death and resurrection of Jesus.  Interestingly tonight as I was putting Ezra to bed and asking him what he was thankful for he commented, "I'm thankful that Jesus left," why I ask? His answer – "because he had too."
I too am thankful that Jesus rose and returned to his Father. I'm thankful for all he teaches us through the time he spent here on earth, for his willingness to enter into our humanity and suffer, and that in him I can find hope, and a resurrected life.
P.S. Yes, I actually took the butterfly picture, and much more during the past week or so which I've added to the photogallery under "San Cristobal."